March 31, 2019
March 29, 2019
Global Encounter in Syracuse: The Refugee Experience

Learn how YOU can make a Global Impact right here in Syracuse!
Join Dr. D. Bruce Carter, Coordinator of New Refugee Studies Program at Falk College along with a Grassroots Activist and Student Panel for a discussion over the Refugee Experience in Syracuse
Become Informed – Get Involved – Make an Impact!
WHEN: Friday March 29 at 12:30PM
WHERE: Eggers Hall
January 14, 2019
STEP Center Programs Begin!
We hope everyone had a great winter break and all regained the rest and energy needed to start off this Spring semester on the right foot!
All STEP Center programs for the Spring 2019 semester are kicking up the first week of classes (1/14-1/18). Check out the events page to see what's happening in the LCM Community!
Welcome back to campus everyone and we wish for all to have a great semester!!!
October 28, 2018
Welcoming Our Neighbors: Reformation Day Banquet 2018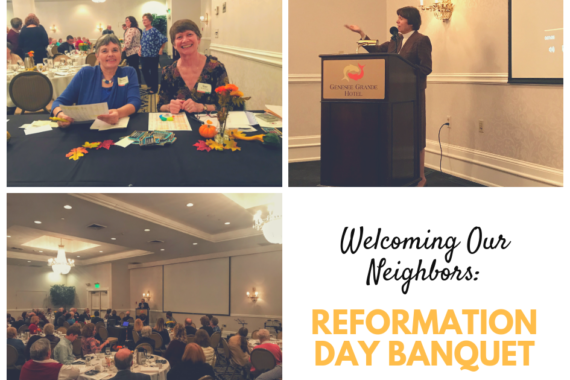 Our annual LCM Reformation Day Banquet was held at the Genesee Grande Hotel on October 28th, 2018. It was a truly inspiring night with our keynote speaker Beth Broadway and distinguished disciples Bonny McCabe and Rev. Marie C. Jerge.
Beth Broadway, President/CEO of InterFaith Works, shared with us the experience of seeing her mother courageously stand up against those opposing school integration. This sparked her commitment to the work she does to this day. In addition to inspiring all who attended, we thank her for introducing and endorsing the STEP Center programs offered this year. She encouraged all of us to be active agents in bringing, understanding, and acceptance to all people as an end note.
Youth Minister Bonny McCabe inspired us by sharing the joy she finds in her volunteer work. In her commitment to faith, she demonstrates a balance in personal, family and communal relationships. She admitted this is not always easy, but it is something she would never change if she had to do it over again. Her heartfelt stories and experiences were not only motivational, but also uplifting.
Rev. Marie C. Jerge is an ordained minister of the Evangelical Lutheran Church in America, former bishop of the Upstate NY Synod, ELCA; a Spiritual Director; and Dean of the yearly Lutheran Summer Gathering at Silver Bay. Former Bishop of New Jersey, The Rev. Roy Riley, introduced her and read the prayer Marie gave to the conference of Bishops before they took the historic vote for full inclusion of the LGBTQ community. He believes her Trinitarian prayer transformed the spiritual chemistry in the room before the debate took place. We experienced the prayer as relevant to us today as we grapple with change together.
Lutheran Campus Ministry thanks all who attended and hope the event inspired many more to become more involved with our programs and community!